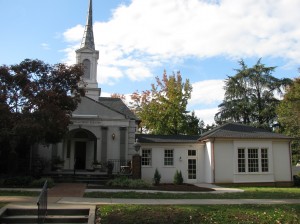 People of all faiths (or no faith) are welcome to attend our services.
Child care is provided at both services.
Sunday Services
Sunday services are held from 10:30 a.m. to 11:30 a.m. Every Christian Science branch church around the world hears the same readings from the Bible and the Christian Science textbook Science and Health with Key to the Scriptures by Mary Baker Eddy.
Wednesday Testimony Meetings
Note: effective Sept. 5, 2018, Wednesday services will start at 7:00 PM.
Wednesday testimony meetings are held from 7:30 p.m. to 8:30 p.m. Readings are selected by the church's first reader on a topic relevant to current affairs and daily life. During the second half of the meeting, attendees are invited to share healings, experiences and inspiration from the study and practice of Christian Science, or general remarks on spirituality and faith.